---
The Italian government recently announced a new portal containing data on public spending: http://soldipubblici.gov.it. This is obviously great news; the website is still in beta though so in what follows I'd like to put forward a few (hopefully constructive) comments and desires for how it could/should be developed further.
Incidentally, I recently ran into Ian Makgill from spendnetwork.com/, a London startup funded by the Open Data Institute which looks at using open public data to create the first comprehensive and publicly available repository for government transaction data.
We ended up chatting about the situation with open government data in Italy. To be honest I'm no expert on the matter but a couple of names quickly came to mind.
First, the excellent OpenPolis association. Their mission is to enable free access to public information on political candidates, elected representatives, and legislative activity thus promoting transparency and the democratic participation of Italian citizens.
One of their most successful projects is Open Parliament (similar in scope to theyworkforyou.com in the UK). More recently the Open Bilanci platform was created so to allow citizens to search&compare the budgets and expenses of municipalities (local boroughs) in Italy.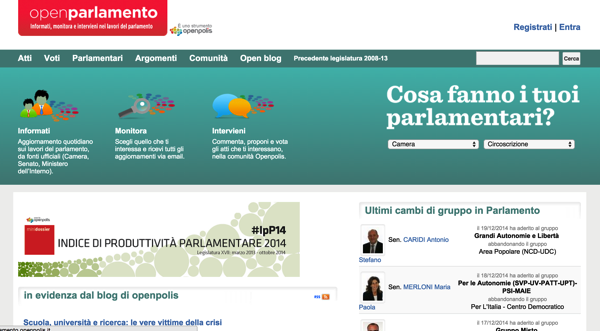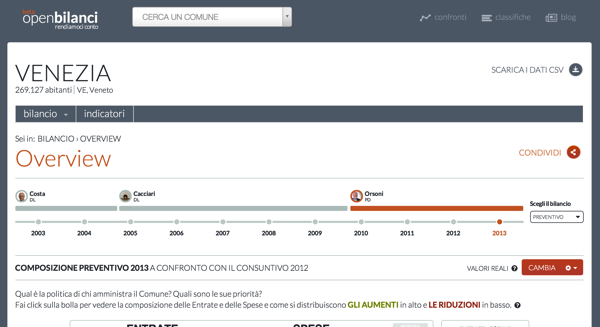 Second, the ongoing work done by the Open Knowledge Foundation, which also has an Italian charter. For example one of its long-standing projects, openspending.org, contains references to several datasets about Italy's public spending.
Another useful resource is the Italia open data census, a community driven initiative to compare the progress made by different cities and local areas in releasing Open Data.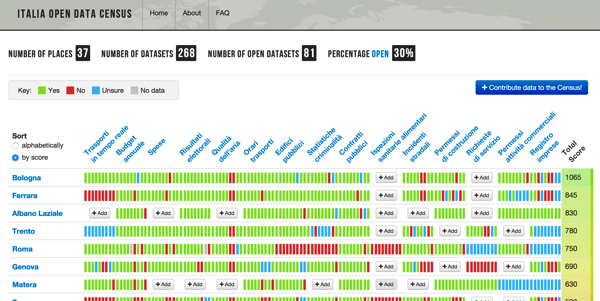 Soldipubblici.gov.it: a first look
It should be clear by now that the people behind soldipubblici.gov.it are not the only ones looking at increasing transparency and democracy by releasing open data.
What's not clear at all though, is whether these different groups are talking to each other - which would seem the most obvious thing to do before embarking on a new enterprise like this. Especially since soldipubblici.gov.it is strikingly similar (in scope) to the aforementioned Open Bilanci portal. I'm sure that both the folks at the OKFN and openpolis.org would be interested in getting their hands on these data so to integrate them with their existing services.
Nonetheless, it's great to hear that more is happening in this space. Even more so because it's the Italian government who's taking responsibility for it this (as it should be).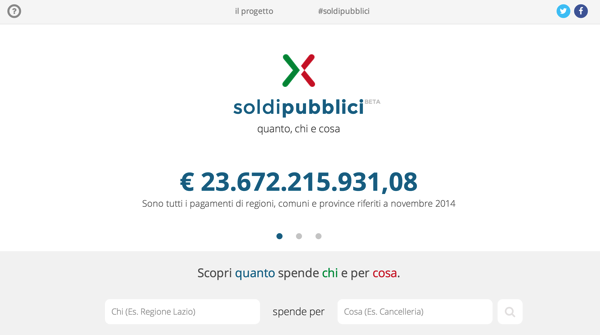 That's the good news. The bad news is that, from a data perspective, there isn't much you can do with the soldipubblici.gov.it in this beta release. If one wants to put these data to use there are various key elements missing I believe. Here's a few ideas:
Conclusion: how serious do you want to be about open data?
This is an inspiring start and I can't wait to see it being developed further. Especially if it gets developed with real end-users in mind! To that end, it's useful to bring up what the OKFN has declared to be the key features of data openness:
Availability and access: the data must be available as a whole and at no more than a reasonable reproduction cost, preferably by downloading over the internet. The data must also be available in a convenient and modifiable form.
Reuse and redistribution: the data must be provided under terms that permit reuse and redistribution including the intermixing with other datasets. The data must be machine-readable.
Universal participation: everyone must be able to use, reuse and redistribute — there should be no discrimination against fields of endeavour or against persons or groups. For example, 'non-commercial' restrictions that would prevent 'commercial' use, or restrictions of use for certain purposes (e.g. only in education), are not allowed.
Personally, I can't stress strongly enough how useful it'd be being able to access the raw data. Excel, CSV, a REST API or even better a Linked Data API. A data-level access point would turn this nice-looking but essentially siloed website into an open resource which thousands of data journalists or data scientists (of any kind) could build upon.
Are you looking forward to see this happen? I do!